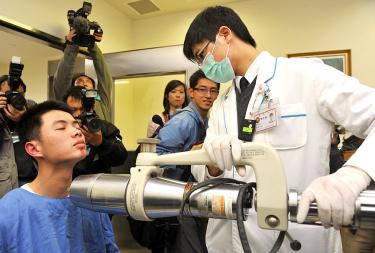 A doctor uses a device to test for radiation contamination in the thyroid gland of a patient during a simulated drill at the Tri-Service General Hospital in Taipei -yesterday.
Photo: Chien Jung-fong, Taipei Times
The Department of Health organized a radiation training drill at a local hospital yesterday in an effort to demonstrate the nation's readiness for treating patients exposed to high levels of radiation.
The drill at Taipei's Tri-Service General Hospital was held amid worries that radioactive fallout from Japan's nuclear reactors could hit Taiwan.
Premier Wu Den-yih (吳敦義), Department of Health Minister Chiu Wen-ta (邱文達) and other health officials and fire department staff observed the drill.
The scenario simulated a nuclear plant accident in northern Taiwan, with plant workers and local residents rushed to the hospital for treatment.
Tri-Service General Hospital, one of 19 hospitals nationwide charged with the responsibility of receiving patients from a potential nuclear disaster, said that it holds emergency training programs and drills once a year in accordance with ministry regulations. The hospital has 30 full-time nuclear medicine specialists on standby.
However, Shen Hueng-yuan (諶鴻遠), chief of the hospital's Department of Nuclear Medicine, said the hospital rarely comes across cases of severe radiation poisoning.
According to Shen, the hospital sees an average of fewer than one patient a year for a radiation level check and those that do come in often work at a nuclear power plant.
Wu asked people not to panic about exposure to radiation from Japan as weather patterns forecast for the next five days indicate that Taiwan would be spared from any nuclear fallout.
In his remarks, he also touted other government efforts to help keep Taiwan safe. He said the Atomic Energy Council has set up about 30 monitoring stations at borders and immigration checkpoints to screen for the presence of radioactive particles on both agricultural produce and travelers arriving from Japan.